We Voted and Hope You do Too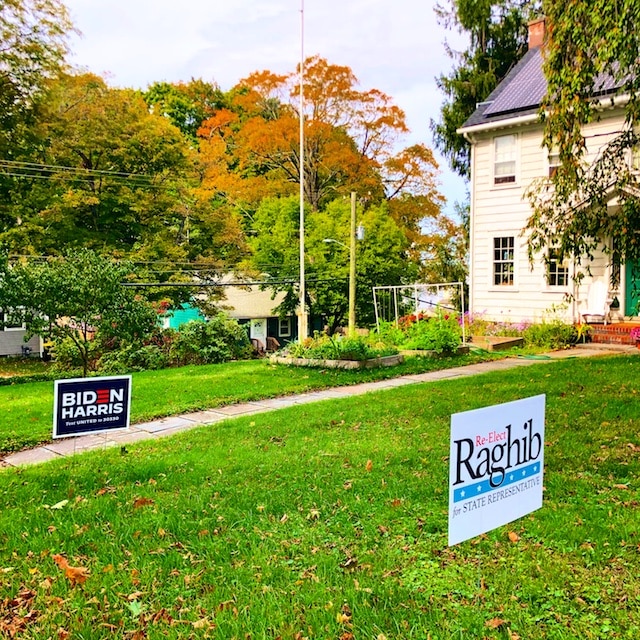 We voted early by putting our absentee ballot in our local dropbox (see photos below).
We also have campaign signs on our lawn (as you can see in the photo above).
Until four years ago, I kept politics out of this blog, in the spirit of unity. I still have those same values, but feel the issues at stake are too important to remain silent. As I said in my devastated rant four years ago, written the day after the last presidential election, I do not want to feel my silence has helped evil prosper. I refuse to be culpable, so I'll take a stand. By the same token, I do not want to be divisive, and I love all of you of every stripe, so I have kept this kind of discussion to a minimum.
This blog is about deep authenticity, and transparency is a large part of that. It is also about hope, and I'm discussing a very serious level of hope here. So I'll say this once, eight days out from the election, with many having already voted early:
I crave a change in national leadership, and need to see our country heal, regain its moral footing, mend its fences, support diversity, and take care of the environment, where we've had so many losses over the last four years. Integrity and honesty are important to me, as is a woman's right to make her own choices and be respected as an equal, and I'm not ok with bragging about sexual assault, putting kids in cages, white supremacy, racism, and tax dodging, to name just a few things. I believe in science in general, but specifically as it relates to global warming and this pandemic, and that perspective is urgently needed at the decision making levels. I feel we need to support our allies, stand up to bullies, and engage in fair play. I sincerely hope and pray we can turn things around to avoid fascism, regain our footing in the global community, and no longer be an embarrassment in the world. I deeply yearn for intelligent competency, compassion, devoted service, and human decency to return to the White House.
If you didn't know where I stand you do now.
This blog has a global readership, so if you are in the US, please please please VOTE, but please also, we need everyone everywhere to pray about this election. At long last we are entering the count down to a week from tomorrow.