Strawberry Crumble for Two (Recipe for Individual Ramekins)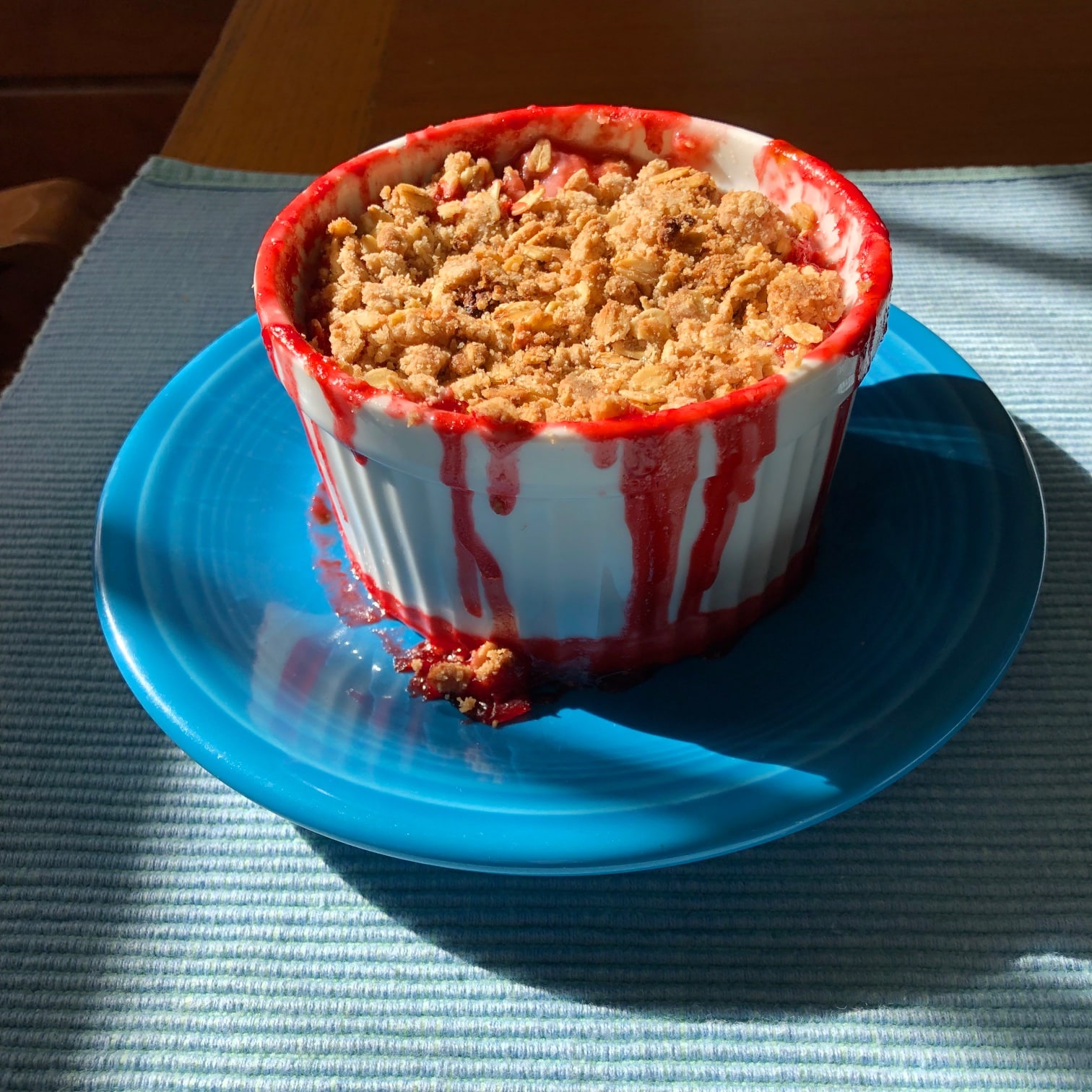 James made this for me on Valentine's Day to compliment the scallop dinner I made him, and when I posted photos of the meal on Facebook, people wanted to know how to make this lovely strawberry crumble. Hence, this blog. First, I must say, that it tasted even better than it looks. Plus, of course, the color is fabulous!
This was a delicious rather guilt-free treat since it was made with sprouted spelt flour and very little sugar. We used really nice strawberries from the farmer's market last summer that we froze for some winter delight such as this. If you prefer, you could use regular flour or fresh strawberries. But since good organic frozen berries are available year round, knowing you can use them successfully in this makes it an approachable treat any time of year.
This recipe makes two ramekins worth, but it would be easy to multiply it for more people (we own 12 of these matching ramekins that we picked up for a song at a thrift store).
It also seems like a huge mound of strawberries for just two of these, but yes, they all cook down and fit in there, which is why it is so good.
Strawberry Crumble for Individual Ramekins
4 Tablespoons of sugar, divided
1/2 cup plus 1 1/2 Tablespoons Sprouted Spelt Flour, divided
1 1/2 pounds of organic strawberries, thawed and chopped
1/2 teaspoon sea salt
1/2 organic oats
2 Tablespoons organic butter, melted
Preheat oven to 375ºF
In a bowl, whisk together 2 Tablespoons of the sugar, 1 1/2 Tablespoons of flour, and the sea salt. Add the thawed strawberries and toss to coat. Allow to sit for 10 minutes to thicken.
In another bowl, mix together the oats, the remaining 1/2 cup flour, and 2 Tablespoons of sugar. Add the melted butter bit by bit until a loose crumble forms. Don't over mix it.
Divide the strawberry mixture evenly between two ramekins. Top with the oat mixture, divided evenly.
Place the ramekins on top of a piece of parchment placed on a rimmed cookie sheet to catch any juices that bubble out of the ramekin. Bake for 30 minutes. Allow to cool for 10 minutes before serving.
Enjoy!