Family Christmas Photos 2018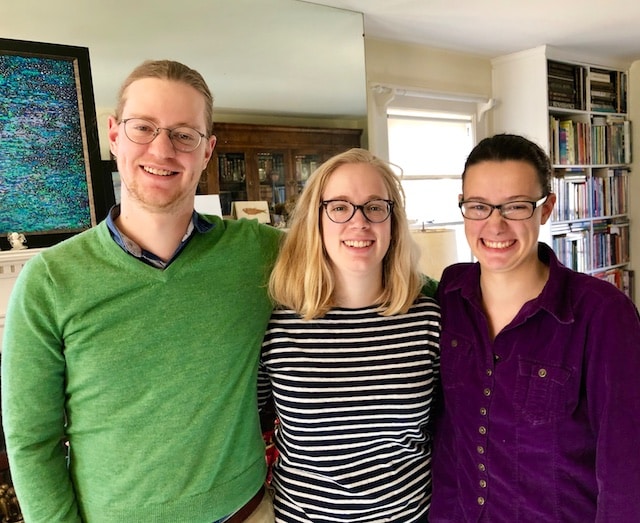 We had a nice Christmas and hope you had a great holiday too.
We were all together again for the first time since last Christmas, with kids in from Pennsylvania, Washington D.C., and California. We ate, made and frosted cookies, opened presents, played some raucous card games, and I was still on call professionally as well, and worked quite a bit. Our oldest read a whole book, while our younger two played online games together on the couch.
We got our smallest tree ever and only got around to decorating it (rather skimpily) on Christmas Eve. Christmas morning my husband made an amazing breakfast crown stuffed with apricots, raisins, walnuts, and orange zest from the Great British Baking Show cookbook I had given him earlier this year. You can see it in the photos. We made cut out sugar cookies (for recipe see here) and Hungarian  Cookies (for recipe see here). Our Christmas dinner was rather standard fare for us, adorned with Royal Riviera pears, sent by James' aunt.
Other than the books shown on the blog yesterday, I show my gifts last below. They were all wonderful. My husband went all out and gave me my first wheelie luggage. It is made out of plastic bottles and can even charge a phone or computer. (He knew from our recent travels I was tired of schlepping mine, and plus our old one came dramatically unsewn on our last trip.) He also gave me the pastel materials you see in the photo. We also got stuff to reduce plastic use in my kitchen, some silicone lids, some washable mesh bags for veggies, and some beeswax reusable storage wraps. Another highlight was a gorgeous scarf a new friend and blog reader wove for me– thank you!
You can see in the photos below the two square ceramic plates I made my husband, as well as the ceramic flute our youngest daughter made our older one.
I'm mostly just grateful we were all together, healthy, safe, harmonious, gainfully employed and progressing. I'm glad everyone is doing so well, and wanted to be here. I'm especially grateful for my husband, and for all he did to make this a wonderful time for all of us.