Bits and Clips from April 2018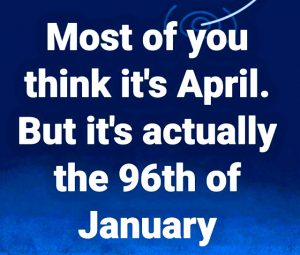 This regular, monthly post captures the best that I read, saw, or heard on the Internet during the month. So check out the links (separated into categories) below, and the TON of memes in this post. I hope you find something here the interests you, lights your fire, ups your game, motivates you, satisfies you, makes you happy (or more inquisitive), or inspires you soul.
Art:
Bobby McFerrin – LIVE Improvisation at The Kennedy Center
6 Tips for Artists on How to Talk about Their Art
Baffled by Conceptual Art? So Are Will Ferrell and Joel McHale in This Museum's Short Film
Three Sisters Sing Classic Celtic Tune
Voices of Experience: Lana Ballot
Photography:
Spirituality:
Can Depression Be Healed with Bible Study?
'God wants people to come together': At MLK rally, many faiths but one message
Cultivating the connection between soil and the soul with 'FaithLands'
Ideas:
Wiki Has Released Over 83,500 Vintage Sewing Patterns Online For Download
Meet Alex: Food Blogger, Stay-at-Home Mom, and Total Badass
Robert Lanza presents a radical new view of the universe and everything in it.
Before You Feel Pressure, Watch This
Sweden Bans Mandatory Vaccinations Over 'Serious Heath Concerns'
Welcome to Gros Morne National Park
Birds Can See Earth's Magnetic Fields, And We Finally Know How That's Possible
50 Years After Dr. King's Death, Remembering the Women Who Steered the Movement
International scientists have found autism's cause. What will Americans do?
Remembering Barbara Bush, a beloved first lady of strength and purpose
Read the Bush Family's Statements Following the Death of Barbara Bush
'Nerves of steel': She calmly landed the Southwest flight, just as you'd expect of a former fighter pilot
5 Best Day Trips from New York City
The Obamas quietly said what Trump couldn't in a letter to Parkland students.
Zig Zigler: World's Biggest Optimist
Books:
A Legacy In Literacy: Books About The Life Of Barbara Bush
22 Ambassadors Recommend the One Book to Read Before Visiting Their Country
Food:
Badassery in the Kitchen: Teri Turner from No Crumbs Left Will Get You There
Top Ten Spaghetti Squash Recipes
Poetry:
Helen Mirren Reads Poetry to Stephen Colbert
and Hope:
Metal Straws to Save the Planet
5 Digital Ways to Save the Earth
Plastic Waste Can Fix Our Roads
High School Cross Country Team Wants To Help Animals, Takes Shelter Dogs On Routine Runs