Green Curry with Salmon and Vegetables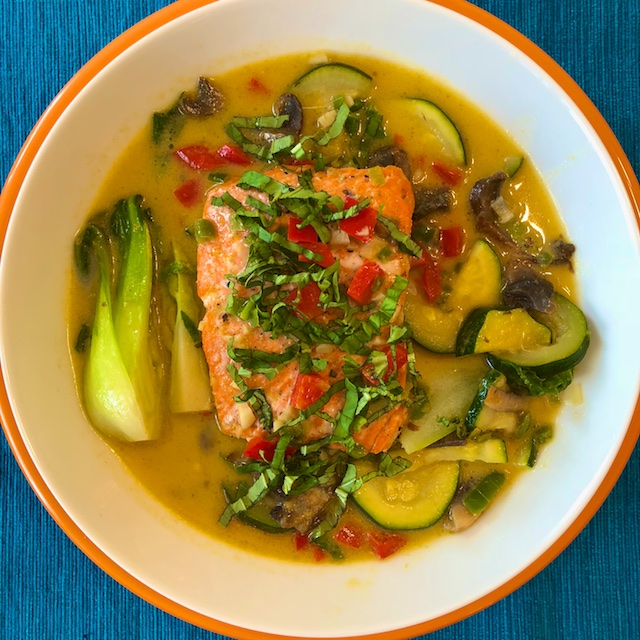 This is delicious and cooks so fast that you need everything ready before you start.
The final dish is a little soupy, so you could serve it over rice or cauliflower rice if you prefer, but we liked it liked it without, served in bowls as shown here.
Recipe for Green Curry with Salmon and Vegetables
2 salmon filets, thawed and skin removed
olive oil
1 zucchini, cut in half lengthwise and sliced
2 seranno peppers, deseeded and minced
2 cloves garlic, minced
2 cups Cremini mushrooms, cleaned and sliced
red bell pepper, deseeded and chopped
1 head of baby bok choy, cut in fourths or chopped
1 inch piece of ginger, grated on microplane
1 can coconut milk
2 tablespoon Thai Kitchen Green Curry Paste
1 tablespoon fish sauce
2 Tablespoons fresh squeezed lime juice
1/4 cup fresh basil, chopped
2 green onions, sliced
salt and pepper
Preheat oven to 400ºF.
While the oven is preheating, get everything chopped and measured and ready.
Place the salmon in a baking pan with a little olive oil and salt and pepper on both sides.
Bake salmon through, about 7 minutes (more if your pieces are thicker than mine).
Meanwhile, heat 2 tablespoons of olive oil in a large skillet over medium high heat. Add in garlic, serrano peppers, ginger, red bell pepper, zucchini, mushrooms, bok choy, and green onion. Saute until just tender, about 4 minutes.
Add in the green curry paste and stir well to incorporate.
Add the coconut milk, fish sauce, lime juice, and cook until the salmon is done.
Remove the salmon from the oven, and serve immediately over the green curry vegetables, garnished with freshly chopped basil.
Enjoy!