Today's Plein Air Oil Painting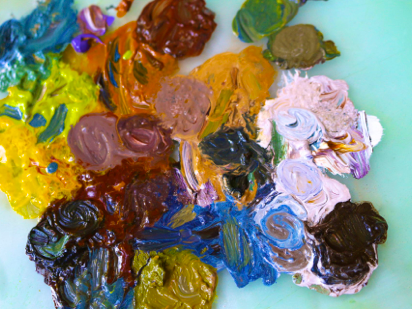 I had a great time today plein air painting with our youngest daughter. We picked the most gorgeous day of the week to go, and I let my daughter pick the spot. She chose this waterfall in Redding, CT, which we hadn't been to for a while and are fond of.
She painted on the other side of the falls from me (atop that rounded blonde rock in my painting). There was a moment while she was painting that she was back lit by the sun and I really wish I had taken a photo of her then– so glowing and reverential– but I didn't want to interrupt the perfect bliss of that instant. Still, it was a moment to cherish!
This is a complicated scene, and while lovely, especially with the gush of water drowning out all other sounds, it was a bit too dull chromatically with all its brown, grey and green, so it was a challenge to make this magical place interesting on the canvas. I solved this problem by heightening the color palette and went a bit more abstract with it. Also a challenge was painting the shale-like rock that the water is spilling over; it was a struggle to get all its horizontal strata looking like rock and not like water. The textures were fascinating though……
I had a blast painting out there today, but this 8" x 10" oil painting (shown below) is not a favorite; it feels more like what I'd call an early lisping, but I'm building foundations for other works I'll like better.
I hope to have more opportunities to paint outside while the weather is good!