Movie Review: The Lorax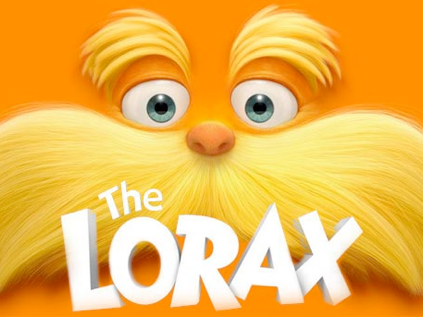 We finally saw this last night. It has been on our list to do so for a long time. I didn't have huge expectations so found it a pleasant surprise. Why is it generally given only three stars? I loved it and would give it at least four, even leaning to five.
This might be because I got the cultural and metaphorical references that escaped a lot of people. For example, our daughter didn't get the musical reference to Mission Impossible, which both my husband and I found hilarious. And the more you know about environmental issues, the more pleasing and pointed the allegorical metaphors were.
Some argue that this film is "greenwashing," but what do they call the influence of violent films? This movie is unabashedly trying to get people to care about the environment, and to consider the consequences of their actions for the good of the whole. It gets folks to consider that worthy endeavor in an entertaining way.
I wish the monied corporations that rally against this sanity would back down as readily as the one in this movie does. That rang as unrealistic, but turning the tide of popular view it the first step, and it has to start with me and you.
You might want to see this if you haven't yet…