Book Review: Unpacking My Library: Writers and Their Books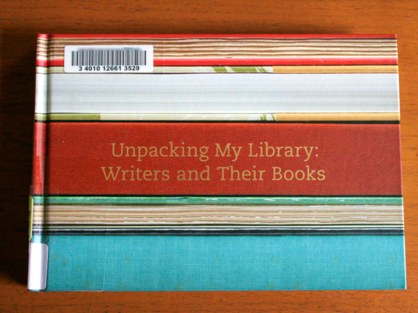 I had seen this book in my book catalogs so when it showed up on a library's new book shelf I took a look at it. I not only checked it out for a perusal, but read it word for word cover to cover, and I added a lot of must reads to my book list as a result. (I also learned that by owning many IKEA Billy bookshelves, I own the most purchased bookcases in the world; to date they have manufactured 28 million of them!)
This book interviews writers (ranging from Harvard, MIT, and Princeton professors, to Phillip Pullman, and a lesbian cartoonist) about what books they love, asking them to pick their top ten, and getting a chance to photograph their bookshelves. It was fun to browse these shelves and hear a variety of attitudes to book ownership.
There were many overlaps among their favorite books, most notably Middlemarch, Jane Austin, TinTin, and Proust. It made me wonder what top ten I would pick, and you may see that eventually as a blog post here when I get past the first five obvious ones. But I assure you, none of my top ten, (well, maybe with the exception of Godel, Escher, Bach) will be among anyone else's top ten here.
I would have liked to see less erudite folks asked about their favorite books. What about Tom Friedman, Danielle Steel, Martha Stewart, Anne Lamont, Wayne Dyer, Barbara Kingsolver, Maria Rodale, Michael Pollen, and Tom Peters?
For this reason, I'll only give this book four stars, even though I really liked it also for what it was. If you have a rather academic bibliophile on your gift list, it might be fun to give them this book. For the rest of us though, I think getting it out from the pubic library was just the ticket.