My Son and I Visited Dartmouth Today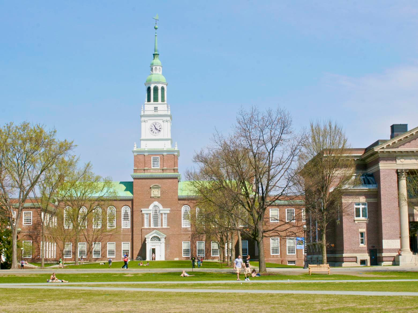 One of the schools my son is seriously considering is Dartmouth, so we visited it in New Hampshire today, in sweltering 91 degree April heat.  He is to visit Swarthmore overnight at the end of the week for the "admitted student days" there, and needed to see Dartmouth first hand to compare.  I believe his decision will boil down to between these two schools for both offer good programs in both Economics and Engineering, unlike his other options of Reed and WPI.  Also, he will not need to declare his major right away at either, and both provide for options of mixing these two majors in creative ways, including the possibility of double majoring.
In the morning we went to an info session, followed by a tour of campus.  We are told that while there is a grad school here, classes are taught by professors and not graduate students.  This is one of seven need-blind schools nationally (Swarthmore is another) and Dartmouth offers a full ride to kids of parents earning a combined income under $100,000, which is very attractive.  They have a three term language class requirement, which my son interprets as a liability, and also 2/3 of the campus belong to sororities and fraternities, which we are dubious about.  No one asked about their reputation as a drinking school, nor about their notorious hazing traditions, and this was not discussed.  The co-eds here, however, were not as preppy as we expected them to be.  And apparently, this is the safest town in the safest state in the union.
We heard about their four quarter system.  Freshman and seniors are required to be on campus for the three quarters of fall, winter and spring.  Sophomore students are required to do a summer quarter, which allows a free term during fall, winter or spring quarters for juniors to be off campus working on internships when other colleges are in session.  Sophomore and junior years also allow for study abroad opportunities, and students may have up to three of those included in their tuition.
Our tour guide for the main part of campus was an economics/math major, which we initially thought was a great fit to show us around, but he turned out to be more enthusiastic about baseball and his frat house.  We were having a rather lackluster impression, but in the afternoon, we had an info session and tour of the engineering school, which we felt good about.
There is innovation going on here, as well as creative hands on learning.  In one of the photos you can see a wall dedicated to plaques of the large array of patents that come out of this engineering school.  The first engineering class you take puts kids on a team to come up with a design to overcome a specific problem, and in 8 weeks the kids must not only fabricate their solution but figure out how to market it and pitch it to Dartmouth alumni venture capitalists, to try to get it made for real.  One of these projects that actually hit a real market is photographed below: a gyroscope put on bike instead of training wheels to keep a bike balanced while a child is learning how to ride.  Our tour guide here is a mechanical engineering student, and is genuinely a perfect fit for us. He is in an engineering humanitarian club and they have been several times to Rwanda to bring them rural water systems. In the photos below, all the shop equipment is being replaced with new before next fall, a fact over which my son salivates…  And there are 30% women here studying engineering which is almost double the national average of 17%.
This is a possibility.  We'll see what he thinks of Swarthmore later this week. I really have no say either way, and am trying to keep my mouth shut and not conjecture.  Our older daughter is avid about discussing pros and cons (to death sometimes it seems) and our son is on the other end of the spectrum.  He is very introspective, and we are trying to patiently respect that.  Our job was to school him to the point that he has these good options, and now he must take it from here. He knows this choice is entirely his and we will support whatever he decides.  One thing that is clear: these campus visits are very subjective, based on who shows you around!
The photos below the engineering sign are all of the engineering school…