Sophomore Year Over
I am in Annapolis, celebrating the end of my oldest daughter's sophomore year at St. John's College.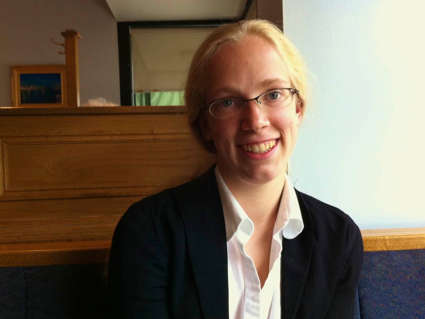 She is happy, challenged, thriving, and possibly a bit over-scheduled. Every minute doesn't seem to have enough seconds for her; her days have no excess hours.
She was the lead in and co-directed the school play, Eumenides, for which she memorized 68 lines in Ancient Greek. Apparently it was a smash hit, as it was raved about by both the college president and the school's most esteemed faculty, Miss Brann (who is shown in a portrait below.) I could kick myself I didn't drive down and see it. I guess I was thinking it was in a language I didn't understand, but that shouldn't have dissuaded me! Anyway, I stole some photos from my daughter's Facebook page so you could see how awesome her mask was for it.
She wrote her sophomore essay on the perennial conundrum between "Free Will and Necessity," and used cantos from Dante to assist her in trying to solve that paradox. In addition to being an excellent student and an exuberant contributor in her academic classes, she played flute in the orchestra, served as Secretary for the campus-wide student government, was active on the waltz committee that hosted the Saturday evening waltz parties, attended Sunday School & Wednesday evening church meetings, as well as a church group on campus. This past year she had a work-study job in the Admissions Office, and she is totally thrilled to have been chosen for the coveted post of "Greek Assistant" for next year!
Also shown below are photos of her campus and her spacious off-campus house, along with some of her friends, both the human kind and the text variety. I am overwhelmingly grateful she is having a balanced, wholesome, and progressively stimulating college experience!