Recipe: Crisp, Spicy, Roasted Parsnips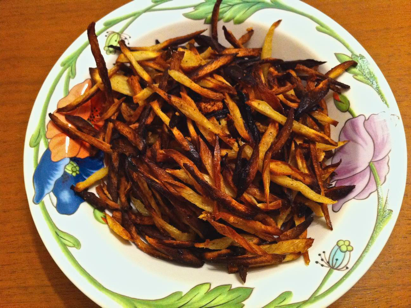 This are tasty eaten just like fries… some like them more or less spicy…
Roasted Parsnip Recipe
1 1/2 pounds of parsnips (peeled) – smaller ones taste better if you have a choice…
3 Tablespoons olive oil
2 pinches of cayenne (we use less…)
1/4 teaspoon of salt (or more to taste)
2 large cloves garlic, minced
Preheat oven to 450˚F.
Cut the parsnips into matchsticks two inches long and a scant 1/2 inch thick…
Place in a rimmed baking pan large enough for them to be in a single layer…
Sprinkle with the olive oil, cayenne and salt all over… toss to mix and coat well…
Roast for 15 minutes, stirring once or twice…
Sprinkle with the garlic… stir well…
Continue roasting until the parsnips are well browned, about another 15 minutes…
Let cool slightly, taste for salt, and serve.
Enjoy!