Holiday Groceries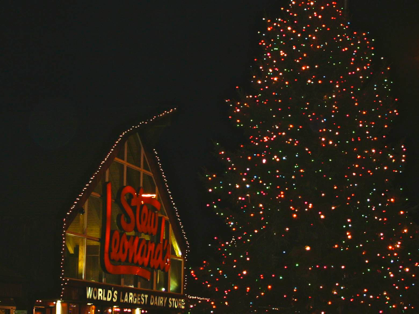 This is not where we usually shop. We come here twice a year, once to get our Christmas tree and again in the spring to get annual bedding plants. They were weird about me taking photographs; the security guard told me I couldn't unless I asked at the courtesy desk; the courtesy desk said it was fine. It makes you wonder what they are afraid of, so I'll refrain from identifying them specifically with a website reference out of deference to their fears. Suffice it to say that this is an enormous store. As an occasional spectacle it is fun to see so much food in one place, but on a regular basis, I would find that level of consumption depressing. This is such a unique store that I once saw a whole busload of Japanese businessmen getting a tour of it as an American curiosity. In that it is embarrassing!
Anyway, our annual family Christmas tree shopping spree is always fun and done in high spirits. In that moment, the massive amount of groceries available denote holiday cheer and abundance; while we are there, it is momentarily blissfully impossible to imagine anyone anywhere going hungry. We filled our cart with glee: peppers, carrots, leeks, scallions, mushrooms, onion, tomatoes, cucumber, avocados, wild Maine blueberry salad dressing (an experiment), boursin, gorgonzola, mozzarella and Jarlsburg cheeses, huge containers of salad greens and baby spinach, their homemade sweet potato chips, grapes and raisins, pears, cantaloupe, pineapple, grapefruit, vegetable stock, pomegranate juice (there were samples: quite good!), crackers, and two containers of the store's clam chowder. We did not buy any of the ostentatiously obnoxious array of desserts displayed in the photos below; we will make our own.
I take these photos mostly because it amuses me, but upon reflection, I am understanding better why. I am always interested in color and composition all around me. Taking photos helps me see these elements better. I now ponder the smoothly predictable shape of the tomato in contrast to the shape of it's vine, not only are these complimentary in color but they are in form as well. I'm fascinated with the compositional elements in a containerized display. The labels on the clementines are an abstract painting the way they were strewn. Looking at the amazing range of the various colors of avocados shown in the photo below for example, I see a luscious color combination that I need to put in a painting, which I might not have appreciated as cheery or vibrant otherwise. The photos also hint at the important sensual pleasures of cooking and eating, of community and fellowship. I rejoice in it all! I hope do too.
(As an afterthought, I've slipped in a candid photo of my crammed refrigerator at the bottom… Let it snow!)