Jack-o-lanterns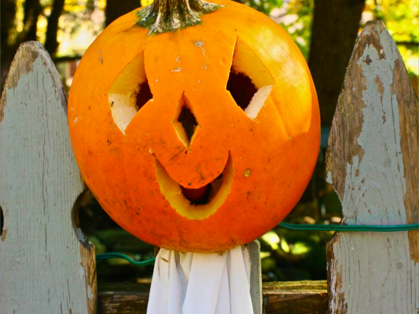 My town has one of the largest celebrations of Halloween around. See the Bethel Pumpkin House YouTube videos here (toward the end) to see what the sight in the photographs below looks like at night when you don't see the scaffolding or the wires and only the glowing faces.
The party goes from dusk to dawn one night only (this year on a Saturday with an extra hour from the switch to daylight savings time), but it is proceeded with a lot of work, dedication and creativity. I took these photos the other day when my 12 year old daughter was there to help out by scooping pumpkins clear of seeds.
This is an amazing collective effort, rain or shine. In these photos, other than my daughter working as a scooper, you'll see the Michael's whose amazing family tradition this is. Their website (see here) says that since 1980 they have had the largest private pumpkin display!
There are approximately 600 jack-o-lanterns prepared and displayed for free for around 2000 visitors. In the last photo, the pumpkins spell out Happy Halloween; the second to last photo is destined to become an all time favorite of mine. Enjoy these photos and have a fun Halloween yourself!