Rehearsal Dinner Food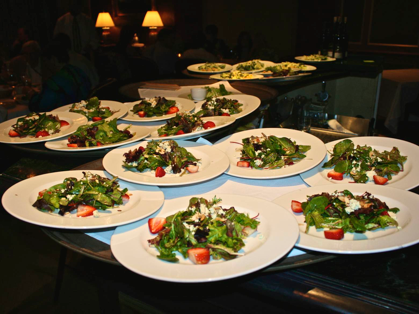 We drove the 11 hours down to Chapel Hill to attend my nephew's wedding. After having lunch with my parents, who I hadn't seen in a long time, we picked up my college freshman daughter from the airport and checked into our hotel. Then we changed for the wedding rehearsal, which was followed by an elegant dinner for 45 hosted by my sister (as mother of the groom) in a private room of the Parizade Restaurant in Durham, NC (see here).
The food was lovely; check it out in these photos! The company was also great, and I particularly enjoyed sitting between my other sister from Ohio and my oldest daughter who I haven't seen since I dropped her off at her first day of college two months ago. We had lots to catch up on, and had a very good time.