2017 Reading Challenge Complete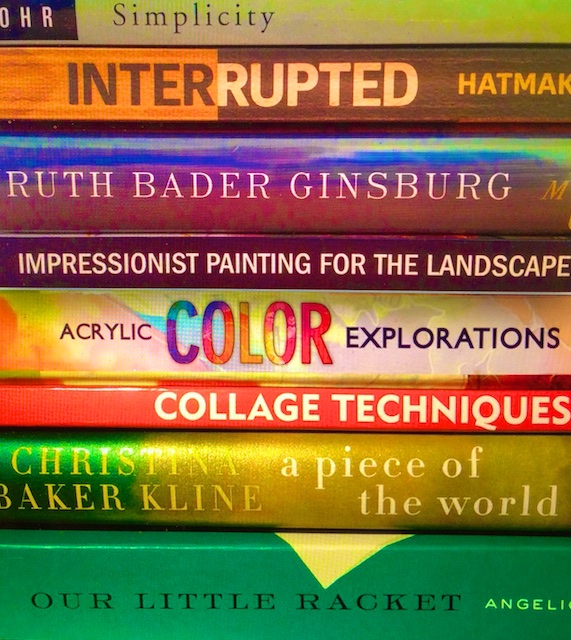 Well, I did pretty well on the Reading Challenge for 2017!
I exceeded my goal of 52 books and read 67 instead. How did you do? Thanks for joining me on this!
Below you can check out what I read for each category. The blue title/author links below take you directly to the book on Amazon, and where I wrote reviews (35 of them), you can click on those where it says to in red.
My four top favorites?
For fiction: The Robe, and The Winthrop Woman
For non-fiction: The Invention of Nature, and The Wisdom of Sundays.
Let me know in the comments what your favorite reads were this year!
And just before New Year's, I will post the Reading Challenge for 2018! I hope you join us; it is fun and it helps me pick out more of a variety than I would otherwise. Lots of blog readers tell me that they appreciate how the challenge structures their selections and keeps them going through the year. So tell me soon what new categories you'd like to see in next year's challenge!
Meanwhile, maybe this list will help give you those needed last minute gift ideas… or help you spend those incoming gift cards!
52 Week Reading Challenge for 2017
An easy book: That Summer by Lauren Willig, Paris for One by Jojo Moyes
A difficult book: My Own Words by Ruth Bader Ginsburg
A short book:  The Present Moment by Louise L. Hay
A long book: The Winthrop Woman by Anya Seton (my 5 star review here)
An educational book: The Glass Universe by Dava Sobel (my 4 star review here)
A recreational book: The Painter's Daughter by Julie Klassen (my 4 star review here)
A cheerful book: The Rosie Effect by Graeme Simsion
A helpful book: The Wisdom of Sundays by Oprah Winfrey (my 5 star review here)
A beautiful book: Tom Thompson: The Silence and the Storm by David Silcox and Harold Town
A lighthearted book: Sunday Sketching by Christoph Niemann (my 5 star review here)
An important book: Thank You for Being Late by Thomas Friedman (review pending)
An interesting book: Cloud Atlas by David Mitchell (my 5 star review here)
An old book: The Man in the Iron Mask by Alexandre Dumas (my 4 star review here), Mrs. Stevens Hears the Mermaids Singing by May Sarton (my 4 star review here)
A memoir: Sweet Life in Paris by David Lebovitz (my 4 star review here)
A mystery: Murder at the Brightwell by Ashley Weaver (my 4 star review here)
A saga: Pachinko by Min Jin Lee (my 4 star review here)
An art book: Collage Techniques by Gerald Brommer
A poetry book: Devotions by Mary Oliver (my 5 star review here), Joy by Christian Wiman (my 4 star review here)
A cookbook: A Modern Way to Cook by Anna Jones, Modern Way to Eat by Anna Jones, The Forest Feast by Erin Gleeson, First Mess by Laura Wright
A spiritual book: Miscellaneous Writings by Mary Baker Eddy
A beach read: Ever After by Jude Deveraux
A coffee table book: Women of Abstract Expressionism by Irving Sandler and Joan Marter (discussed here)
An explanatory book: Learning Linocut by Susan Yeates
An optimistic book David and Goliath Malcolm Gladwell
A book that makes you better: Impressionist Painting for the Landscape by Cindy Salaski and George Gallo
A book of historical fiction set in America: A Piece of the World by Christina Kline (my 4 star review here)
A book of historical fiction not set in America: Vanessa and Her Sister by Priya Parma (my 5 star review here), The Lilac Girls by Martha Hall Kelly (my 4 star review here), The Accidental Empress by Allison Pataki (review pending)
A book about making a difference: The Wright Brothers by David McCollough (my 5 star review here)
A book about nature: The Invention of Nature: Alexander Von Humboldt's New World by Andrea Wulf (my 5 star review here)
A book about falling in love: Pearl in the Sand by Tessa Afshar
A book about food, farming, or the environment: Deep Run Roots by Vivian Howard
A book about something you know nothing about: Clay Printing by Mitch Lyons
A book on a subject you know a lot about: Acrylic Color Explorations by Chris Cozen, Collage Masters by Lark Books
A novel printed in 2017: Eleanor Oliphant is Completely Fine by Gail Honeyman, Love and Other Consolations by Jamie Ford
A non-fiction book printed in 2017: Pantsuit Nation by Libby Chamberlain, Gracious by Kelly Williams Brown
A book printed in 2016: In the Company of Women by Grace Bonney (my 5 star review here), The Girl Who Drank the Moon by Kelly Barrnhill (my 5 star review)
A book from the public library: The Other Einstein by Marie Benedict (my 4 star review here), Faithful by Alice Hoffman (review pending)
A book from an independent bookstore: Dot Journaling by Rachel Wilkerson Miller (my five star review here)
A book of fiction you own but have never read: When the Emperor Was Divine by Julie Otsuka (my 5 star review here)
A book of non-fiction you own but have never read: Print & Stamp Lab by Traci Bunkers
A book by an author you've read before: The Summer Before the War by Helen Simonson (my 4 star review here)
A book by an author you have never read before: My Grandmother Told Me to Tell You She's Sorry by Frederick Backman (my 5 star review here)
A book recommended to you by a friend: A Man Called Ove by Fredrik Backman
A book set in a third world culture: Little Princes by Conner Grennan (my 4 star review here)
A book set somewhere you have been: News of the World by Paulette Jiles (my 5 star review)
A book where Christianity or Judaism plays a major part: Interrupted by Jen Hatmaker (my 5 star review here), The Great Spiritual Migration by Brian D. McLaren (my 5 star review here)
A book where Buddhism or Hinduism plays a major part: The Delight in Being Ordinary by Roland Merullo (my 4 star review here)
A book where Islam plays a major part: The Badass Librarians of Timbuktu by Joshua Hammer (my 3 star review here)
A book where poverty plays a major part: Hillbilly Elegy by J. D. Vance (my 5 star review here)
A book where affluence plays a major part: Playing the Game by Barbara Taylor Bradford, Our Little Racket by Angelica Baker
A book about redemption, freedom, or transformation: Simplicity by Richard Rohr (my 5 star review here)
A book you are so glad you read: The Robe by Lloyd C. Douglas (my 5 star review here)