Amazing Caramelized Bacon Appetizer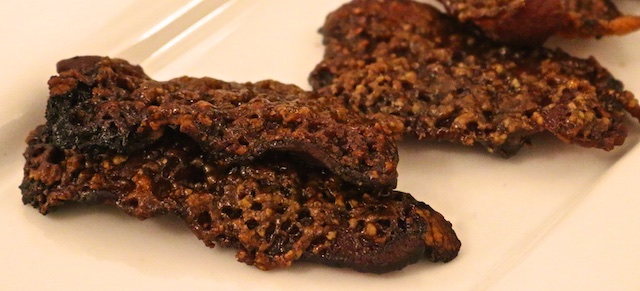 At Denise Carey's art show opening she served one of the best things I've ever tasted in my life. These caramelized bacon appetizers, sweet and sticky with just a hint of heat, are intensely terrific, if a bit over the top. Next time you want to amaze your friends, serve these. Oh my!
Unfortunately, I didn't get a photo of the original plate full of these goodies. The room inhaled them practically instantly. However, you can see her here, bring in reinforcements…
This is the recipe exactly as Denise sent it to me:
Caramelized Bacon Recipe
From Ina Garten, Barefoot Contessa Foolproof (2012)
Ingredients:
1/2 c. light brown sugar, lightly packed
1/2 c. chopped or whole pecans
2 tsp. kosher salt
1 tsp. freshly ground black pepper
1/8 tsp. ground cayenne pepper
2 tbsp. pure maple syrup
1/2 lb. thick-sliced applewood-smoked bacon, such as Nodine's
Directions:
Preheat oven to 375°. Line a sheet pan with aluminum foil (for easy cleaning) and place a wire baking rack on top.
Combine brown sugar and pecans in a food processor and process until the pecans are finely ground. Add salt, pepper and cayenne and pulse to combine. Add maple syrup and pulse again to moisten.
Cut bacon slices in half crosswise and line up pieces on rack without touching. With small spoon, evenly spread pecan mixture on top of each piece, using all of the mixture.
Bake for 25–30 mins, until topping is very browned but not burned. If it's underbaked, the bacon won't crisp as it cools.
While it's hot, transfer the bacon to a plate lined with paper towels and set aside to cool. Serve at room temperature.
Denise's addenda:
(1) I haven't been able to get them crisp after 30 mins, so I've added 3-min increments to about 40 mins to get them really brown. They almost look like they're beginning to burn at the edges.
(2) Don't put them on paper towels (surprise—caramelized sugar is very sticky!). I use parchment, but wax paper or a plate would also work.
Wow. Enjoy.