Jerusalem Exhibit at the MET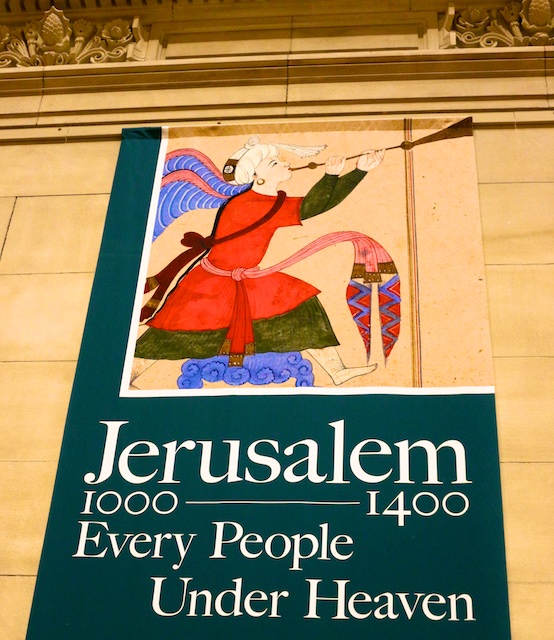 We were fortunate yesterday to get to go by chartered bus to the Metropolitan Museum of Art in New York City to see their Jerusalem exhibit with a bunch of church folks from Ridgefield, Connecticut.
Shown first below is Ridgefield's Episcopal rector, whose church sponsored the event, together with her friend Barbara who co-curated the show at the MET. Barbara (and her colleague Melanie) spent 6 years pulling this show together, and it was fascinating to listen to her talk about the Middle Ages in Jerusalem. She emphasized that the "dark ages" were not dark at all, and she delightfully shared information on the cultural and artistic heritage in Jerusalem during this time period, as well as interesting tidbits on how an exhibit like this is pulled together.
Jerusalem truly was "an intersection of aesthetic sensibilities," as you can see in the impressive objects shown below. The exhibit had 200 works from 60 lenders, some who never have loaned out their precious items before. Showing until January, it is the first exhibit of its kind, and it makes clear that more than politics was going on here; it was predominantly a commercial hub for a wide mix of people.
What I found most inspiring about this exhibit was that despite intermittent strife and war in this region, the diverse faiths here actually got along much of the time, and their prosperous co-existance spawned one of the most creative periods in history. The resulting art was as varied as the religious traditions– beautiful and astonishing in its complexity.
In the last photo below, you can see Ridgefield's assistant pastor of the Congregational church, who invited my husband and me.  I am fortunate to know both these wonderful clergy women because I am our church's representative on our local Ridgefield Clergy Association.
I've never been delivered by bus down to the MET before, but getting dropped off and being picked up right outside the door is an efficient and cushy way to visit this massive museum! Thank you so much to all that made this unique field trip possible!