Recipe: Middle Eastern Spinach Soup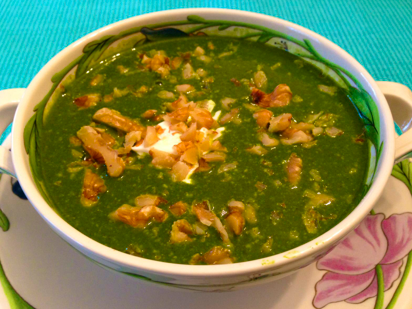 This soup is easy and delicious, rendered interesting and memorable by the surprising combination of Syrian spices. This recipe is by Martha Rose Schulman as found in here the New York Times last year. It uses one and a half of those huge containers of spinach from Costco for 4 to 6 servings of soup!
1 tablespoon extra virgin olive oil
1 medium onion, chopped
1/3 cup finely diced celery
Salt to taste
2 garlic cloves, minced
1/2 cup brown rice
6 cups vegetable stock
A bouquet garni made with a bay leaf and a couple of sprigs each thyme and parsley
1 1/2 pounds fresh baby spinach
1/4 teaspoon ground allspice
1/8 teaspoon ground clove
1/8 teaspoon freshly grated nutmeg
1/4 teaspoon ground cinnamon
1 scant teaspoon coriander seeds, lightly toasted and ground
Salt and freshly ground pepper
1 teaspoon cornstarch
2 cups drained yogurt or Greek-style yogurt
1 small garlic clove
1/4 to 1/3 cup chopped walnuts for garnish (I like these toasted too, but my husband prefers the soup without them)
1. Heat the olive oil over medium heat in a large, heavy soup pot or Dutch oven, and add the onion and celery. Cook, stirring, until tender, about 5 minutes. Add a generous pinch of salt and the garlic and cook, stirring, until the garlic smells fragrant, 30 seconds to 1 minute.
2. Add the stock, rice, bouquet garni, and salt to taste, and bring to a boil. Reduce the heat, cover and simmer 30 minutes. Remove the bouquet garni. Stir in the spinach and spices, cover and simmer 5 minutes, stirring once or twice. The spinach should wilt but should maintain its bright color.
3. Using a hand blender that has a powerful motor, or in batches in a regular blender, purée the soup. If using a regular blender, fill only halfway and cover the top with a towel pulled down tight, rather than the lid, because hot soup will push the top off if the blender is closed airtight. Return to the pot and heat through, stirring. Whisk 1 teaspoon cornstarch into 1 cup of the yogurt, and whisk into the soup. Season to taste with salt and pepper.
4.For the pungent, garlicky yogurt garnish, mash the remaining garlic to a paste with a pinch of salt in a mortar and pestle. Stir into the remaining yogurt. Serve the soup, garnishing each bowl with a swirl of the yogurt and a sprinkling of chopped walnuts.