Writing Prompt: The Petoskey Stone Mouse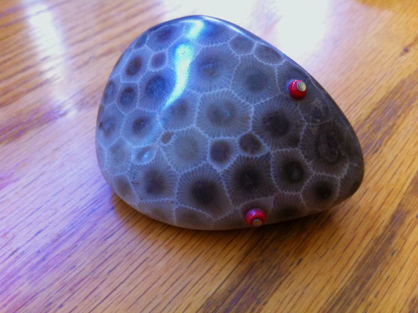 For my writing class at Creative Arts Camp we were asked to bring a favorite small object.  I brought the Petoskey stone mouse shown in the photo.  (Petoskey stones are fossils unique to Michigan which I spent a lot of time hunting for with my Dad as a child.) Anyway, in my class, to practice dialogue, we were asked to imagine our object wanted to get away, and we were trying to get it to stay.  Below is what I wrote:
The Petoskey Stone Mouse
The Petoskey stone mouse exclaimed plaintively, "I want to go back to Ann Arbor.  I miss my usual spot on your dad's desk.  I'm sorry, but I'd rather be with him.  He smoothed my rough edges, and stroked me contemplatively.  Nobody here notices me."
"I love you too," I said to reassure him.
Ignoring my attempt to comfort him, he reiterated, "Please take me back to Michigan.  No one even knows what a Petoskey stone is here.  I'm a freak.  Your dad has a basement full of Petoskey stones, and except for the ones he slabbed for the coffee table, I'm the only one that gets to be upstairs.  I felt honored there."
"Don't forget," I reminded the stone critter, "Not only did I find you, but I saw you were a mouse and gave you eyes to see with."
"I don't mean to be ungrateful," said the mouse, "but you grew up and went away and he treasured me while you were thinking of other things.  He let me comfort him, since I reminded him of you."
"Oh, I'm so glad he had you for that!"
"So let me go back. Nobody needs me here."
I drew a deep breath and explained, "Actually I do need you, since now you are a comfort to me.  I can't take you back, for the house is sold and my dad is no longer alive.  I know it's hard for you to understand since you were alive once and are still here."
"What?! My house is not there to return to?"
"No, I'm sorry."
"Does this have something to do with that plaque you wood-burned for the shop in the basement that said, 'Old rock-hounds never die, they just slowly petrify?' Did your dad finally petrify?"
"Not exactly.  Kind of the opposite actually, because we can't see him anymore.  But he's still a rock in my life, not unlike I was for him all those years ago when you kept him company on the blotter on his desk when I was gone.  You see, now he's off on a grand adventure, and you can comfort me and remind me of him."
"Well, I still miss him, but I guess we can do that together.  Can you put me on your desk instead of in the dining room? Then when you're working late we can swap stories about him."
"That sounds like a plan. I'm glad you're with me.  Never forget that, just like together we'll never forget him."
"Okay…"