My Youngest Daughter Won the County Geography Bee!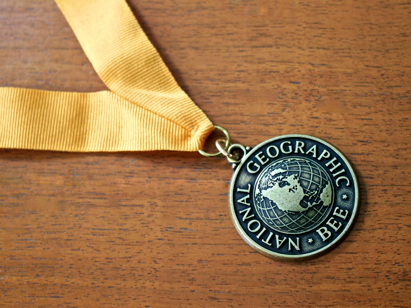 Each kid is eligible for this bee for four years, from 4th grade until 8th grade. All three of our kids have participated in this all of their eligible years. My older two kids came in second place several times. Today in our 12th and last shot at this, our youngest slam dunked it – right off the top of her head! She answered some really hard questions: the two key questions of which regarded Yemen (a complete jaw-dropper for the audience that she knew this) and Mount Kilimanjaro.
My daughter gives a lot of the credit for her win to a Runkle Geography course she took last year. Other than a half hour of Geography games last night on Sporcle (click here) she did not in any way prepare for this bee. All those other years, I dutifully took my camera, but somehow not today, when I had to snap my winner on my iPhone. See our tall girl below, ecstatic, hugging second place Natalie.
With only one other girl, the bee was totally dominated by boys, so it was especially fun to have these two girls trounce them all for the championship round! (Afterwards my daughter took a test to see if she qualifies to compete in the statewide bee…) Needless to say, we bought lunch out to celebrate!