Book Review: Robert McCloskey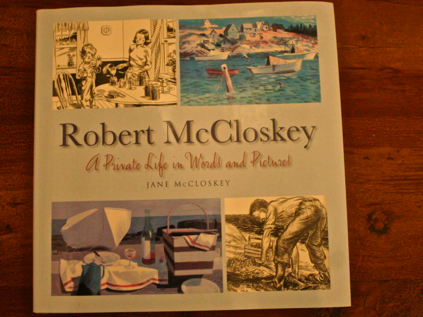 While I was in Maine and in his stomping grounds, I read this biography of one of my favorite children's book authors, Robert McCloskey. He wrote, Make Way for Ducklings, Blueberries for Sal, Homer Price, Lentil, Centerburg Tales, One Morning in Maine, Bert Dow, and my personal favorite, Time of Wonder. (I poured over Time of Wonder as a child, never dreaming I'd grow up to know that landscape well.)
This book chronicles the author's family– written by his daughter, Sal's sister– and I especially liked the bits set in Maine when his children were small. Here are some interesting quotes from the book:
• "Most days we studied for a couple hours in the morning and then we were free for the rest of the day. From Labor Day until the middle of October, when we left for New York, we managed to cover the school lessons for our classes through January."
• "I kept an open mind about God. If I was going to pray to a God when I was scared, I needed to be respectful of a God when I wasn't." 
• "I loved the beautiful land and water and my friends in Maine. I was happy. But I was becoming aware that Maine, as I knew it, was not the real world."
And the last line from the book Time of Wonder bears repeating: "A little bit sad about the place you are leaving, a little bit glad about the place where you are going. It is a time of quiet wonder – wondering for instance: Where do hummingbirds go in a hurricane?"
I give this book 4 stars; check it out if you are a fan of his work.